CONCRETE GRINDING AND SEALING GEELONG
MODERN LOOKING FLOORING OPTION USING CLEAR SEALERS TO ENHANCE THE LOOK OF YOUR CONCRETE.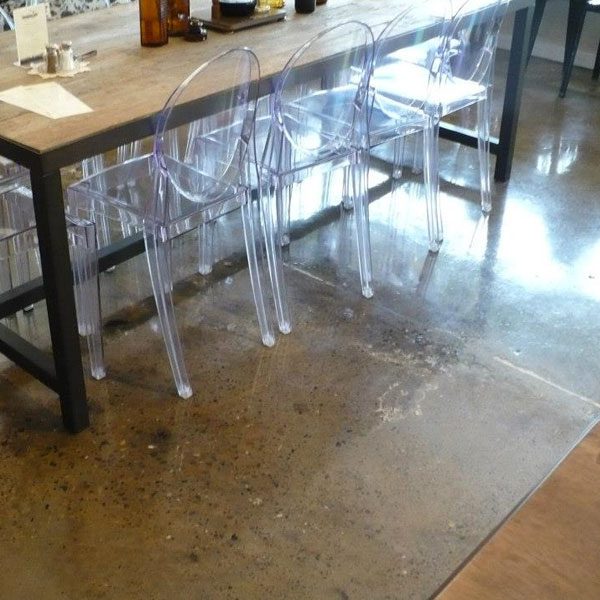 Grind and Seal
Grind & Seal is an alternative to traditional polished concrete. We can gind to expose full stone or minamal amount of stone then sealing with clear sealers to enhance the concrete look. Many types of sealers can be used in a matt, satin or gloss finish. Differnt sealers can lighten or darken the finish. Some sealers used are epoxy, polyurethanes, acrylic selaers and polyaspartics. Water based and solvent based products can be used.
Suitable for:
Homes,offices, showrooms, patio's and garages
Is Grind and Seal flooring the right choice in Geelong?
Concrete floors aren't just for outdoor spaces and garages anymore. With the right finish, these dull floors can be refinished and made to look amazing. Most people tend to have concrete subfloors and add another layer of flooring like vinyl, hardwood or tile on top of these subfloors as they are unaware of other flooring solutions. This is where Premium Concrete Resurfacing comes into play with their grinding and sealing services. It is a way to improve the look of your concrete floors without adding another layer of flooring. This makes the option of grinding and sealing sustainable and cost effective. However, based on our experience in the industry, we do not recommend grind and sealed floor finish for areas that experience high foot traffic as it will always require a reseal in such a case.
The Process
The floors are decontaminated and neutralized before they can be finished with a grind and seal system. It is a process to restore the floors to their original shine and brilliance. Grinding restores the floor's surface level and preps it for sealing. A high powered concrete grinder is used to remove imperfections from the concrete. Sealing the floors after fixing it makes it crack resistant and restores its original look.
Exposures involved with Grid and Seal Concrete
There are three different types of exposures involved with grind and seal concrete: Zero exposure, partial exposure and full exposure.
Zero exposure takes off the top layer for coating and is suitable for warehouses and garages.
Partial exposure gives a consistent and flat look as it takes off a deeper layer of concrete from the surface.
Full exposure grinds away several layers of concrete exposing a maximum number of stones.
Benefits of Grind and Seal Concrete Floor
Cost effective as it is cheaper in comparison to other alternatives like polishing.
Maintains the aesthetic value of the floor without any extra efforts
Stain and bacteria resistant due to its non porous property.
Stain and bacteria resistant due to its non porous property.
Offer different granite exposures.
Can also be modified to make UV-resistant floors for outdoor spaces.
Less labor intensive than other flooring solutions.
Higher abrasion resistance.
Addition of beading or grit to this procedure will enhance its slip resistance property.
Premium Concrete Resurfacing for premium grinding and sealing services.
At Premium Concrete Resurfacing we believe in delivering the best service possible. Our trained team of professionals will perform a complete inspection and guide you with the right choice of grinding exposure level and type of sealant to be used as per your floor requirements.
We make sure that we use environment friendly methods and provide a hassle free service to our clients. We offer a range of solvent or water based sealants that demonstrate varying degrees of durability and stability. Our work and reviews speak for themselves. We understand the importance of your safety and time therefore, we only use the best quality tools and materials and try to complete the job in minimum possible time. We ensure that our clients do not have to face any legal problems and work within the standard set by the Australian government. We make sure to cater to every requirement of the customer and achieve complete customer satisfaction.
If you have any queries regarding the process, costs involved, any other flooring solutions or our company in general, please do not hesitate to reach out to us. We are always available to answer all your queries and provide the best service possible. Let's help you get the best flooring solution possible, give us a call now!
MAKE AN INQUIRY
If you have any questions feel free to reach us.