HYPER FLAKE SYSTEM HAS A MODERN STONE LOOK WITH A SUPERIOR FINISH WHICH WOULD ENHANCE ANY AREA.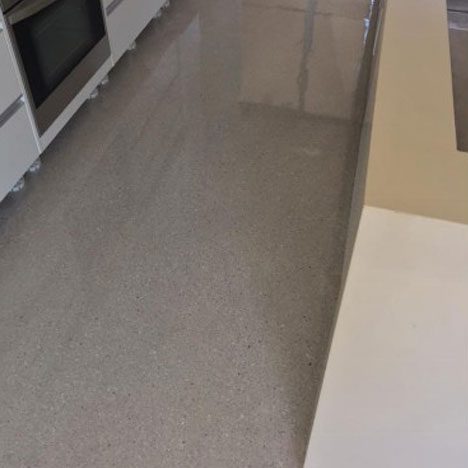 Hyper Flake Flooring
Hyper Flake Systems are a new and exciting alternative to the traditional polished floor or grind & seal system when the desired look might not be achievable. Hyper Flake Systems can have a high gloss super smooth finish offering a decorative finish for internal areas including the home, office, showrooms etc. It also can have a low gloss finish with a nonslip added for driveways, pathways and all external areas which make either option a durable, tough and easy to maintain flooring solution. Suitable for residential and commercial applications. Hyper Flake has quickly become a desirable long-term flooring solution. A great alternative to tiles where grout can absorb unwanted contaminants. Hyper Flake Systems are seamless and non-porous when installed as a full system giving a natural stone looking finish in multiple colours.
Suitable for:
Homes, showrooms, driveways,garages, sheds,man sheds, offices.
All about Hyper Flake Flooring in Geelong
Premium Concrete Resurfacing offers a comprehensive hyper flake system as a part of our services in Geelong. With a modern stone finish, and enhanced look, it is one of the desirable flooring solutions. A hyper flake floor will appear seamlessly with a glossy finish and is the right fit for internal areas like inside homes, offices, showrooms, and more. If you have a standard vision of how your floor should look, you could say no to a traditional polished floor and get a hyper flake floor in your premises for an affordable price. The reason why a hyper flake system is better than the traditional or grind & seal system is because the former can give your floor a look that suits your style.
The way forward with Premium Concrete Resurfacing

Our team is experienced in installing flooring solutions with high attention to detail, and have been working closely with clients in Geelong to provide them with this durable option of Hyper flake system. If you have questions regarding flooring systems, feel free to let us know. Our experts can guide you through the implications of every option, like that in case of a hyper flake floor.
It is definitely a long-term solution, and is versatile in terms of usage at various places. Our aim is to do our job in the right manner, whilst ensuring that you are satisfied with the chosen flooring solution, and our service.
Benefits of choosing Hyper Flake Flooring in Geelong
There are many benefits of choosing to get a hyper flake floor installed in your premises. Some of them are outlined below:
These flooring systems are appropriate for both commercial and residential properties.
No need to worry about unwanted contaminants like in tiles.
You can choose from a wide range of colours while getting a hyper flake floor installed.
This flooring solution has a modern, natural, and seamless stone finish, making it a perfect choice for decorative flooring.
It's durability makes it a preferred choice, if you are after a long-lasting solution.
Hyper flake system is suitable for homes, offices, sheds, man caves, showrooms, driveways, and garages.
A hyper flake floor can enhance any area with its non-porous and decorative properties.
It is high-gloss and slip resistant.
It requires very low maintenance, as it is resistant to stains.
Our team has worked with clients from both commercial and residential sectors to offer them with installation of hyper flake systems in Geelong. If you are looking for a flooring company to get a hyper flake floor, you are in the right place. Our experts are proficient when it comes to installing hyper flake systems. We value our clients, their time, and ensure that every job is done in the safest way possible. We demonstrate excellent workmanship, therefore, you will never be disappointed with our work and customer service. We understand the importance of having a good-quality floor, for the safety of your family and/or your colleagues and staff, while receiving good value for money. However, it is also important to ensure that the flooring solutions are installed in the right manner. Hence, our trained specialists do the job right for the peace of mind you deserve. Whether it is getting a hyper flake floor, or availing of any other flooring solution, the team at Premium Concrete Resurfacing is always happy to help.
If you have any questions regarding the process, prices, or general information about our company, do not hesitate to contact us.
We envision to become the most sought-after flooring company in Geelong, and are continuing to give our best for the same. Let's help you get a long lasting hyper flake system in Geelong- give us a call now!
MAKE AN INQUIRY
If you have any questions feel free to reach us.